Moss Point is Mississippi's Healthiest Hometown in 2017
Grant Awarded: $50,000
The City of Moss Point won a Healthy Hometown Award for its population category in 2014, and continued its success by being named "Mississippi's Healthiest Hometown" in 2017. With a solid leadership structure and a highly involved Healthy Hometown Committee, the municipality's smoke-free policy was recently strengthened to include an amendment that prohibits the use of electronic smoking devices on city property, including restaurants and private businesses. Tobacco-free lifestyles are promoted on the city's social media platforms, and city employees aged 16-20 are required to complete an educational session explaining the harmful effects of tobacco and electronic smoking devices.
In Moss Point, the opportunities to be healthy are plentiful, and residents are encouraged to utilize city parks, recreational spaces, and walking trails. With its location on the beautiful Mississippi Gulf Coast, a variety of water activities are available, with swimming and kayaking being the two most popular. Also, a farmers' market and a community herb garden are available for residents.
During the 2016-2017 school year, uniformed firefighters taught Moss Point School District students in grades K-5 the value of making healthy food choices and led them in fun physical activities and a community walk at each school for students, faculty, parents and neighborhood residents, through the Healthy Heroes Program funded by the Blue Cross & Blue Shield of Mississippi Foundation. For the firefighters' willingness to participate in the Healthy Heroes Program, the Foundation provided the City of Moss Point with outdoor fitness equipment. The city located the outdoor fitness equipment near the fire station for use by firefighters, police officers and members of the community.
The City of Moss Point plans to use the $50,000 grant award to establish fruit and vegetable gardens at elementary schools located within the municipality. The municipality also plans to install bike racks in strategic locations throughout the city to encourage riding bicycles in lieu of driving vehicles to work places, shopping areas and restaurants.
2017 Healthy Hometown - Meridian - (Population 15,000 or more residents)
Grant Awarded: $25,000
Through its continued efforts to promote health and wellness, the City of Meridian received a Healthy Hometown Award for its population category in 2017. Quality work is being done by Mayor Percy Bland and the Meridian Healthy Hometown Committee to improve the health and wellness of the community by promoting recreational areas, farmers' markets and community garden initiatives. The mayor established the Mayor's Health and Fitness Council to create a culture of good health with goals to promote active living, exercise and healthy eating.
The municipality uses many methods to promote health and wellness, including social media and a new website dedicated to informing residents of available recreational activities, upcoming fitness events and healthy nutrition seminars. Volunteers distribute thousands of brochures to business, schools, and churches giving the dates and times for the Meridian Area Farmers' Markets, and other activities that promote wellness.
Residents are encouraged to participate in the plentiful recreational activities offered by the City of Meridian. Many 5K events, biking events and community walks are held in the Bonita Lakes area, and Highland City Park provides access to a public swimming pool and a splash pad for summer family fun.
The Meridian School District has a strong commitment to healthy living and adopted health and wellness as one of its four overall strategic goals. The district is aligned with the 2007 Healthy Students Act and collaborates with parents and community members about school health initiatives.
With the $25,000 grant award, the City of Meridian plans to enhance the Bonita Lakes walking trails and make improvements to city parks.
2017 Healthy Hometown - Hernando - (Population 5,001 and fewer than 15,000 residents)
Grant Awarded: $25,000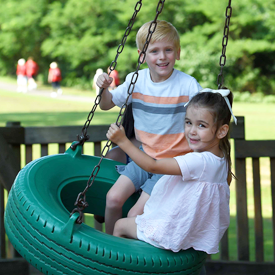 Municipal leaders and residents comprising the Hernando Healthy Hometown Committee are taking responsibility for their own personal health and wellness through exemplary leadership and community engagement. Free health screenings and the establishment of a fitness center for city employees are two of the many wellness initiatives that earned the City of Hernando a Healthy Hometown Award for 2017.
The City of Hernando has a Complete Streets Policy in place that considers all modes of transportation, including walking and biking, before plans are made to construct new streets. The City also adopted site and design standards to ensure sidewalks are built in all new residential subdivisions and in new or redeveloping commercial and industrial projects.
Branded as a "Mississippi Certified Farmers' Market" by the Mississippi Department of Agriculture and Commerce, the primary objective of the Hernando Farmers' Market is to offer a diverse produce selection and allow visitors to engage in health nutrition education. The Hernando Farmers' Market also works with the Mississippi State Extension Service to teach vendors and visitors about food safety and healthy nutrition.
As part of the DeSoto County School District, Hernando's schools are aligned with the 2007 Healthy Students Act. The district has health and wellness as one of its four overall strategic goals and assists students and parents in making lifestyle choices that promote wellness. During the 2016-2017 school year, police officers visited elementary schools located within the municipality as part of the Blue Cross & Blue Shield of Mississippi Foundation Healthy Heroes Program. Uniformed police officers as "Healthy Heroes" engaged students in healthy nutrition lessons and physical fitness activities. Each school visit culminated in a community walk for students, faculty, parents and neighborhood residents. For the City of Hernando's participation in the Healthy Heroes Program, the Foundation provided funds for cardiovascular and strength training equipment to be placed in the municipality's employee fitness center.
The City of Hernando plans to use the $25,000 grant award to build a recreational trail at the city park providing additional opportunities for walking and biking. The trail will connect to a populous neighborhood, giving more residents access to a variety of physical fitness activities.
2017 Healthy Hometown - Mantachie - (Population 5,000 and fewer residents)
Grant Awarded: $25,000
In its inaugural year as a Healthy Hometown contender, the Town of Mantachie is making significant progress in creating a healthy living and working environment for its residents. Members of the Mantachie Healthy Hometown Committee share the common goal of providing citizens with plenty of opportunities to make healthy living a priority, and their efforts earned the municipality a Healthy Hometown Award for 2017.
The Town of Mantachie recently strengthened its smoke-free ordinance to ban the use of electronic cigarettes. The ordinance also prohibits smoking in 100 percent of all hotel and motel rooms, restaurants, bars, and workplaces, including tobacco and electronic smoking device retail store workplaces.
An employee wellness policy was adopted by the Mantachie Board of Alderman allowing town employees the opportunity to exercise two times each week for 30 minutes during work hours. Employees are encouraged to bring healthy snacks, lunches, and beverages to work, as there are no vending machines on town property. Many local businesses also promote healthy living, with one business providing a free on-site fitness center for employees. The Town utilizes the expertise of the Mississippi State University Extension Service to develop and implement health and wellness opportunities for all residents.
Schools located in the Town of Mantachie replaced all cafeteria deep fat fryers with oven steamers and removed all vending machines and snack bars. To encourage healthy eating, the Town's schools provide supervision by adults modeling healthy eating behaviors in elementary school dining and snacking areas.
Plans for the $25,000 grant award are to install outdoor fitness equipment at strategic locations around the walking trail at Mantachie City Park.
About the Judges
The Healthy Hometown Awards applications are evaluated by a panel of distinguished health and wellness champions from Mississippi and around the country. Judges for the 2017 Healthy Hometown Awards Program were:
Sue Polis, Director of the National League of Cities, located in Washington D.C. Polis manages the health and wellness portfolio for the Institute of Youth, Education and Families.


Paula Little, Ed.D., Assistant Superintendent and Supervisor of Instruction for the Clinton County School District in Kentucky. She also established the Clinton County Healthy Hometown Coalition.


Robert J. Gates, Project Director for the Trinity Educators Development Corporation, based in the Mississippi Delta, providing assistance to small and limited resource farmers. He also works collaboratively with community consultants to improve health and wellness in the Delta.