Morton is Mississippi's Healthiest Hometown in 2016
Grant Awarded: $50,000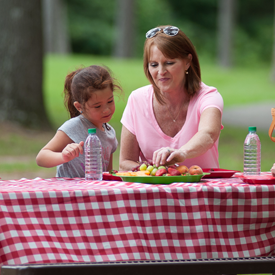 The City of Morton won a Healthy Hometown Award in 2015 in its inaugural year as a contender. Led by Mayor Greg Butler and the Morton Healthy Hometown Committee, Morton continued its focus on municipal health and wellness and was named "Mississippi's Healthiest Hometown" in 2016 by the Blue Cross & Blue Shield of Mississippi Foundation.
The city adopted a comprehensive smoke-free ordinance in 2013, and updated the ordinance in 2015 to prohibit the use of electronic smoking devices in all workplaces, restaurants, bars and public places. The city received local and state media attention for its efforts in discouraging the use of tobacco and electronic smoking device products. Local hospitals and clinics in Morton are tobacco-free and offer free smoking cessation programs.
Municipal employees are encouraged to develop and maintain healthy lifestyles with opportunities to engage in physical fitness while "on the clock," for 30 minutes twice per week. Morton also provides its employees with fun events and challenges, including "Get Lean at Lunch" and "10,000 Steps." Local businesses promote workplace wellness by sponsoring health fairs, weight loss programs, flu shots given by health care professionals, and in-service health literacy workshops.
An outdoor walking track at Farris Park is well lighted providing a safe place for families to exercise. The park also includes ten pieces of outdoor fitness equipment, including two exercise stations for children.
The Morton Healthy Hometown Committee partnered with local convenience stores to offer more healthy snacks and beverages. As a result of their efforts, two convenience stores now offer a "Healthy Choices" section featuring fresh fruits, vegetables and a variety of low-calorie beverages and snacks.
In early 2016, the mayor and the board of alderman voted to waive the daily fee for farmers' market vendors. As a result, the farmers' market expanded and is now open for more than 100 days per year in a prominent downtown location, providing residents and visitors with opportunities to purchase fresh produce. Volunteers cultivate the city's community garden and maintain a food pantry that makes locally grown produce available to the public.
As part of the Scott County School District, Morton's schools are aligned with the 2007 Healthy Students Act and engage in shared use activities with the municipality. School administrators and faculty members collaborate to promote a learning environment focused on healthy nutrition and physical fitness. One of the school district's overall formal written strategic goals is aligned with health and wellness ensuring all administrators, faculty and students receive instruction as to the importance of healthy eating and exercise.
With the $50,000 grant award, the City of Morton plans to upgrade municipal parks and recreational facilities to accommodate the increased community participation in wellness events and activities.
2016 Healthy Hometown - Magee
Grant Awarded: $25,000
As a result of making wellness a top priority, the City of Magee received a Blue Cross & Blue Shield of Mississippi Foundation Healthy Hometown Award in 2016. Led by Mayor Jimmy Clyde, the city is turning its goal of becoming a healthy community into a reality by adopting a comprehensive smoke-free ordinance that also prohibits the use of electronic smoking devices. The use of tobacco products and electronic smoking devices is also prohibited in all hospitals and clinics located in the municipality.
The Living Well in Magee Committee was established in 2011 to promote community healthy living. As a result of the committee's work, residents have opportunities to engage in walking clubs, weight management programs and free health screenings. Magee adopted a helmet ordinance for adults and children and designated neighborhood walking and biking lanes.
The city recently renovated a vacant building and equipped it with cardiovascular and strength training equipment. The facility, including an adjacent walking and biking trail, is available to all city employees and their families at no cost. City leaders state that this benefit represents a significant cost-savings to employees and the city as it reduces employee absenteeism and the cost of health care.
The Mayor's Marathon challenges business leaders and students to walk 26.2 miles each month, and the mayor writes a weekly newspaper column encouraging residents to utilize city parks, public green spaces, walking trails and the many farmers' markets located throughout the city. The Scrub Run 5K and the Magee Chamber of Commerce Crazy Day 5K provide families with opportunities to participate together in fun fitness activities.
Magee's community garden is located near the farmers' market in the historic downtown area. The garden includes raised beds for planting and harvesting fresh fruits and vegetables. The raised garden beds provide comfortable gardening levels for all residents, including senior adults and children.
Healthy nutrition is one of the overall written strategic goals of the Simpson County School District. Magee school administrators and faculty members partner to promote learning environments focused on healthy eating and physical activity, which are essential for high academic achievement. The school district is aligned with the 2007 Healthy Students Act and engages in shared use activities with the municipality.
Plans for the $25,000 grant award include lengthening the walking trail, renovating the existing outdoor playground and exercise equipment, and upgrading the exercise equipment in the city employee fitness center.
About the Judges
Healthy Hometown applications are evaluated by a panel of known health and wellness champions from around the country. Judges for the 2016 Healthy Hometown Program were:
Bill Weir of New York City, an anchor and reporter at CNN who travels the world in search of unique people, places and cultures. He is the producer and host of "The Wonder List with Bill Weir" on CNN.


Dr. Ian Thomas from Columbia, Missouri, a city council member and former school teacher who serves as a state and local program director for the America Walks organization.


Marc Fomby of Pearl, Mississippi, founder and CEO of FTC Prevention Services that specializes in the development of health and wellness initiatives and training programs for African-American youth.