Walnut is Mississippi's Healthiest Hometown in 2015
Grant Awarded: $50,000
Since winning a Healthy Hometown award for its population category in 2014, the Town of Walnut continued to make community healthy living primary and was named "Mississippi's Healthiest Hometown" in 2015. The Walnut Health and Wellness Committee established goals to improve healthy living in Walnut by promoting health and wellness, providing exemplary leadership and engaging municipal stakeholders.
In early 2015, the town enhanced its smoke-free ordinance to prohibit the use of electronic cigarettes. City leaders, in support of a tobacco-free environment, discouraged the use of smokeless tobacco by educating children, youth and the community at large about the dangers of all tobacco products.
City-sponsored events such as the Walnut Firehouse 5K bring participants to Walnut from as far away as New York and Florida as runners are led through the city streets by Walnut's Fire Department. The Walnut Health and Wellness Committee used the 5K as a public platform to launch "Walnut Runs," a weekly running club open to all ages with a focus on establishing and attaining fitness goals.
The Town of Walnut launched a farmers' market in the downtown area that included green space for family fitness activities. Local musicians and entertainers hosted concerts and events in the downtown area to introduce the farmers' market and green space to the community.
As part of the North Tippah School District, Walnut's schools are aligned with the 2007 Healthy Students Act and engage in shared use activities with the municipality. In late 2014, the Walnut Health and Wellness Committee collaborated with school officials to develop strategic goals focused on health and wellness. As a result, the school district made a commitment to foster health and wellness in students, faculty and staff by providing proper nourishment and opportunities for physical activity.
Based on the results of a town survey administered by the Walnut Health and Wellness Committee, there was overwhelming support from residents to apply the $50,000 grant award toward a wellness center that will provide opportunities for all ages to engage in physical fitness activities with guidance from local health professionals.
2015 Healthy Hometown - Oxford - (Population 15,000 or more residents)
Grant Awarded: $25,000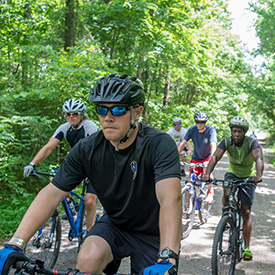 Home to the University of Mississippi, the City of Oxford's health and wellness efforts extend well beyond the boundaries of the city and university through the leadership of the Mayor's Healthy Hometown Committee and its community partner, Healthy Oxford. With students and alumni across the state and well beyond, health and wellness endeavors have a positive impact on the well-being of many individuals. Most recently, the RebelWell initiative in partnership with the Blue Cross & Blue Shield of Mississippi Foundation offered an all-encompassing approach to health education and wellness opportunities on campus and in the surrounding community. Both the city and the university have comprehensive smoke-free policies that include all public indoor and outdoor spaces.
In early 2015, the Oxford Public School District introduced the Good Food for Oxford Schools program to provide nutrition education to school cafeteria employees and harvest local ingredients for use in meal preparation. Through the program, salad bars were placed in each school building, and fryers were replaced with combination ovens. The school district also worked with local farmers to provide a "harvest of the month" to introduce students to different types of fruits and vegetables.
Municipal employees receive free on-site health screenings and flu shots in collaboration with the University of Mississippi's School of Pharmacy. Police and fire stations are equipped with fitness facilities that promote healthy lifestyles among first responders. Local businesses have also implemented worksite wellness programs by offering employees exercise opportunities, nutrition education and tobacco cessation programs.
Oxford is using technology and social networking to its advantage. Links on the city's website provide health and wellness information related to farmers' markets, local fitness centers, sports activities, walking clubs, cycling events and other recreational venues and activities.
With the $25,000 grant award, Oxford plans to enhance the city's bike trail with an outdoor fitness zone so that circuit-style training can be combined with cardiovascular activities.
2015 Healthy Hometown - Kosciusko - (Population 5,001 to 14,999 residents)
Grant Awarded: $25,000
In its first year as a Healthy Hometown contender, the City of Kosciusko is making significant progress in creating a healthy living and working environment for its residents. As a smoke-free community, its Healthy Hometown Committee members share the common goal of providing citizens with plenty of opportunities to make healthy living a priority.
Kosciusko is home to a "Mississippi Certified Farmers Market," a branding program administered by the Mississippi Department of Agriculture and Commerce to identify marketplaces offering the highest quality products, while connecting farmers with the community. Conveniently located on municipal property, the Attala County Farmers' Market offers a diverse selection of fresh local produce.
The Kosciusko School District is aligned with the 2007 Healthy Students Act and engages in shared use activities with the municipality. The district also provides students with opportunities to taste a variety of fresh fruits and vegetables and to participate in various indoor and outdoor activities.
On any given day, Kosciusko residents can be found at one of the city's four public parks participating in recreational activities or using the lighted walking trails. Several community-wide events such as the Natchez Trace Festival 10K, 5K and one-mile fun run and the Tour d'Attala bike ride encourages community participation in fun family fitness activities.
As a Mississippi Healthy Hometown for 2015, the City of Kosciusko plans to use the $25,000 grant award to place outdoor gym equipment in city parks to create free and engaging fitness environments for the community.
2015 Healthy Hometown - Morton - (Population 5,000 or fewer residents)
Grant Awarded: $25,000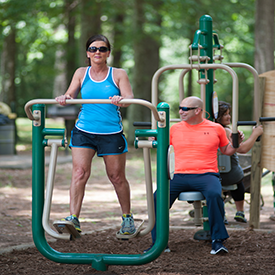 The City of Morton is making good health a top priority by providing programs that promote healthy living. Through the city's website and local newspapers, the Morton Healthy Hometown Committee provides health and wellness information and encourages residents to utilize city parks, recreational spaces and walking trails.
In support of the city's smoke-free ordinance adopted in 2013, the Morton Healthy Hometown Committee partnered with a local hospital to provide smoking cessation programs. The committee also supported the mayor's "Great American Smoke-out" event to encourage all tobacco users to demonstrate that they can quit for a day, and perhaps longer.
Volunteers cultivate the city's community garden to harvest fresh fruits and vegetables, while maintaining a food pantry that serves families in Morton and the greater Scott County area. The city also boasts a popular downtown farmers' market that makes locally grown produce available to the public.
Recently, the City of Morton partnered with the Morton Chamber of Commerce to offer residents the opportunity to participate in "Morton in Motion," a health education program with a focus on healthy eating and exercise. Other programs made available to the community were the "Mayor's Weight Loss Challenge" and the faith-based "Daniel Plan: 40 Days to a Healthier Life."
As part of the Scott County School District, Morton's schools are aligned with the 2007 Healthy Students Act and engage in shared use activities wit the municipality. School administrators and faculty members collaborate to promote an environment focused on healthy nutrition and physical fitness.
With the $25,000 grant award, the City of Morton plans to install additional outdoor exercise equipment at Farris Municipal State Park.
About the Judges
Healthy Hometown applications are evaluated by a panel of known health and wellness champions from around the country. Judges for the 2015 Healthy Hometown program were:
Coach Ken Carter, an acclaimed high school basketball coach, motivational speaker, bestselling author and headmaster of the Coach Carter Impact Academy, whose life was portrayed by Samuel L. Jackson in the movie, "Coach Carter."


Jordan Friedman, a stress management expert, motivational keynote speaker and founder of The Stress Coach brand, who authored The Stress Manager's Manual and provides workplace wellness training and teaching materials to include Dot Calm Stress Trackers and a Stressbusters smart phone app.


Meridan Zerner, MS, RDN, CSSD, LD, a Registered Dietitian, Nutritionist and Certified Wellness Coach employed by the internationally recognized Cooper Aerobics Center, who specializes in weight management, exercise and sports nutrition and providing continuing education for the American Council on Exercise.