Brookhaven is Mississippi's Healthiest Hometown in 2014
Grant Awarded: $50,000
Since winning a Healthy Hometown award for its population category in 2013, the City of Brookhaven continues to make community health and wellness paramount and was named "Mississippi Healthiest Hometown" in 2014. The Brookhaven Healthy Hometown Committee established goals to increase community wellness by providing a variety of activities and resources. As a result, municipal employees receive free on-site health screenings by local health professionals and discounts at fitness centers with incentives to participate in weight loss programs. Local businesses have also implemented worksite wellness programs to encourage exercise, healthy eating, tobacco cessation and other healthy behaviors.
Brookhaven continues to cultivate a culture of health and wellness as residents of all ages have fun participating in 5K events held on traditional "overeating" holidays such as the "Drumstick Dash" on Thanksgiving Day, the "Jingle Bell Jog" on Christmas Day and the "Midnight Madness Run" on New Year's Eve. Fisher Park, the city's newest development, was designed for the "walkability" of the community and hosting 5K event activities.
The city is home to a "Mississippi Certified Farmers Market," a branding program administered by the Mississippi Department of Agriculture and Commerce to identify marketplaces offering the highest quality products while connecting farmers with the community. Bustling with live entertainment and healthy food preservation demonstrations, the popular Brookhaven Farmers' Market offers a diverse selection of fruits, vegetables and other produce, while giving consumers the satisfaction that their food origin is right here in Mississippi. The city's faith-based community cultivates the "Peas for the People" community garden which provides fresh produce for local food pantries and is available to residents with limited resources.
In support of the city's smoke-free ordinance adopted in 2011, the Brookhaven Tobacco Free Coalition, a grass roots effort to discourage the use of smokeless tobacco, educates children, youth and the community at large about the dangers of smokeless tobacco. The coalition is active in almost all facets of municipal activities and events such as health fairs, festivals and after school programs.
Following Brookhaven's adoption of an enforceable helmet ordinance, city police officers visited each elementary school in the Brookhaven School District and distributed a free bicycle helmet to each student. The officers also provided training on bicycle safety and information about local cycling trails.
The Brookhaven School District organized a school wellness committee to lead one of the district's overall strategic goals of implementing a school wellness plan. As a result, students, administrators and faculty members now have access to free onsite health screenings and counseling provided by local health professionals. In 2013, the school district received the "Child Nutrition Best Practice" award from the United States Department of Agriculture for the development of low-sodium and gluten-free spice blends and recipes that can be used in school cafeterias.
Brookhaven is using technology and social networking to its advantage. Links on the city's website provide health and wellness information related to local fitness centers, sports activities, walking clubs, cycling events and other recreational venues and activities.
As "Mississippi's Healthiest Hometown" for 2014, the City of Brookhaven plans to use the $50,000 grant award to build new walking trails, enhance existing walking trails and place outdoor gym equipment in city parks to create free and engaging fitness environments for the community.
2014 Healthy Hometown - Pascagoula - (Population 15,000 or more residents)
Grant Awarded: $25,000
Situated on the scenic shoreline of the Mississippi Gulf Coast, the City of Pascagoula boasts a plethora of outdoor recreational opportunities on its more than 200 acres of parks, streams and lakes. As a result of making outdoor active lifestyles and community health a priority, combined with the efforts of the Pascagoula Healthy Hometown Committee, the city won a Healthy Hometown award for its population category in 2014.
Pascagoula proudly became one of the first Mississippi municipalities to adopt a Complete Streets policy to ensure roadways are designed for the safety of walkers, runners and cyclists. The policy is making a difference in the community as heavily traveled Beach Boulevard along the Beachfront Promenade has seen a significant increase in the number of pedestrians and exercise enthusiast.
Local businesses appreciate the value of healthy employees and many provide a variety of worksite wellness programs. In alignment with the city's no smoking ordinance, Huntington Ingalls Industries offers a free tobacco cessation program to its more than 10,000 employees. Chevron Pascagoula Refinery provides an onsite medical clinic and fitness center, and recently implemented "Fitness for Duty," a program designed to enhance worker health and wellness.
Weekend fun is never far away as the Pascagoula School District sponsors kid-themed "Healthy, Wealthy Super Saturdays" featuring interactive fitness activities and hands-on learning for parents and children. These popular family events are free and open to the public as they focus on the health and well-being of children while challenging their motor skills, balance, and overall fitness levels. With themes ranging from "sailing the high seas" to "animals of the wetlands" to the "wide world of sports," children have fun while learning about healthy nutrition, how smoking affects the lungs, and the importance of physical activity.
Through its Healthy Hometown Pascagoula webpage on the city's website, the community can access information about farmers' markets, healthy recipes, fitness and recreation groups and local health clubs and fitness centers.
With the $25,000 grant award, Pascagoula plans to enhance the city's bike trails and provide kayaking and canoeing opportunities at the River Blueway recreational development.
2014 Healthy Hometown - Moss Point - (Population 5,001 to 14,999 residents)
Grant Awarded: $25,000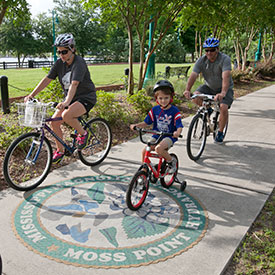 Enriched in southern culture and nestled among live oaks and flowering shrubs, the City of Moss Point's mission is to create a healthy environment for residents by providing green space for outdoor activities and health and wellness initiatives. Through the leadership of the Moss Point Healthy Hometown Committee, residents are encouraged to utilize city parks, recreational spaces, walking trails, and opportunities to cultivate fruits and vegetables in the city's community garden.
In 2013, the Blue Cross & Blue Shield of Mississippi Foundation partnered with the City of Moss Point on the "Walk, Run or Bike" initiative to promote physical activity. This initiative includes goals to create an awareness of the importance of daily exercise to help citizens lead healthy lifestyles by taking control of their own health and wellness conditions. The "Walk, Run or Bike" initiative incorporates all wards in the City of Moss Point, along with the school district and surrounding areas, and includes a competitive program that involves teams throughout the city's wards and among churches, civic, and other organizations. Teams compete for monthly incentives based on weight loss, with quarterly risk reduction counseling done by a health professional.
Total fitness is the goal of city employees as they participate in free workout sessions twice each week at the Riverfront Community Center. Led by city leaders, including the fire chief and other city officials, these fitness classes build camaraderie and motivate employees to make positive health choices.
Healthy nutrition is one of the overall strategic goals of the Moss Point School District. School administrators and faculty members collaborate to promote an environment focused on healthy eating and physical activity which are essential for students to achieve high academic standards.
On any given weekday, Moss Point residents can be found at the Four Seasons Farmers' Market purchasing fresh fruits and vegetables. The city encourages residents to shop at the farmers' market by distributing to local businesses weekly flyers that include discount specials and recipes for adding fruits and vegetables to every meal. Moss Point's health clinics sponsor the "Be Well, Eat Well" initiative with the primary goal to increase rural access to farmers' markets and nutritious local foods. The initiative also provides participants with nutrition education and healthy options for meal preparation.
Plans for the $25,000 grant award include enhancing the walking and biking trails throughout the municipality and expanding the community garden and farmers' market.
2014 Healthy Hometown - Walnut - (Population 5,000 or fewer residents)
Grant Awarded: $25,000
Municipal leaders and residents comprising the Walnut Healthy Hometown Committee are taking responsibility for their own personal health and wellness through exemplary leadership and community engagement by hosting free seminars on disease management and leading weekly weight reduction programs. These and other wellness initiatives earned the City of Walnut a "Healthy Hometown" award in its inaugural year as a contender.
There is a good chance someone is on the city's walking trail around the clock as residents make good use of Walnut's well-lit outdoor track. Other opportunities for community physical fitness include public tennis courts, ball fields and a swimming pool. Aligned with the city's comprehensive smoke-free and enforceable helmet ordinances, employees are encouraged to make healthy choices through incentives for participating in smoking cessation and weight management programs.
Special events such as the Walnut Firehouse 5K bring participants in from as far away as New York and Florida as runners are led through the city streets by Walnut's Fire Department. The city used the 5K as a public platform to launch "Lose a Ton," a healthy competition for all ages with a goal of 2,000 cumulative community pounds lost in the next year. For the annual fall festival, partnerships were formed between city officials and local businesses to offer free health screenings and cooking competitions focusing on healthy alternatives to fried foods.
The city's approach to promote healthy nutrition includes the availability of fresh fruits and vegetables, lean proteins and whole wheat grains at the local supermarket. Also, the Walnut Healthy Hometown Committee publishes and distributes nutrition-themed flyers to faith-based organizations for inclusion in weekly church bulletins.
As part of the North Tippah School District, Walnut's schools are aligned with the 2007 Healthy Students Act and engage in shared use activities with the municipality. School officials collaborate with local health professionals to provide teachers with "Helping the Student with Diabetes Succeed" seminars. High school students of the Walnut Youth Leadership Council host health-themed scavenger hunts for elementary students, with pedometers as prizes.
Although Walnut's population is less than 800, there are more than 10,000 people living and working within a 10-mile radius. Because the nearest wellness center is more than 20 miles from the city's downtown hub, there is overwhelming support from residents to apply the $25,000 grant award toward a wellness center that will provide opportunities for all ages to engage in physical fitness activities with guidance from local health professionals.
About the Judges
Healthy Hometown applications are evaluated by a panel of known health and wellness champions from around the country. Judges for the 2014 Healthy Hometown program were:
Mike Kuczala, an acclaimed keynote speaker, bestselling author and innovative teacher and trainer, who coauthored The Kinesthetic Classroom: Teaching and Learning through Movement.


Linda Langston, Supervisor of Linn County, Iowa and President of the National Association of Counties, who implemented and led the "Live Healthy Iowa" wellness challenge.


Dr. LaQuandra Nesbitt, a board certified family physician and Director of the Louisville, Kentucky Metro Department of Public Health and Wellness, who established the Mayor's Healthy Hometown Leadership Team and was appointed by the governor to the state's Early Childhood Advisory Council.