Ridgeland is Mississippi's Healthiest Hometown in 2013
Grant Awarded: $50,000
In 2013, the City of Ridgeland made significant strides in creating a culture of wellness for its residents, businesses and visitors, earning the title of "Mississippi's Healthiest Hometown." Ridgeland's efforts were spearheaded by partnerships among schools, churches, businesses, civic organizations and local government officials. Through the efforts of Ridgeland's Healthy Hometown Committee, every facet of the city is uniting to create a healthier environment to live and work.
Ridgeland is home to nearly 15 miles of recreation trails, giving it the distinction of having the most trail mileage of any other city in the state. The historic Natchez Trace Parkway passes through the heart of the city, giving bicyclists and runners a scenic backdrop in high-profile athletic events like the Heatwave Triathlon and the Natchez Trace Century Ride. Its Parks and Recreation facilities are among some of the best in the state, hosting numerous award-winning events like KidFest! Ridgeland.
Many local businesses also understand the value of healthy employees and how this can affect the health of their businesses. Some have developed their own worksite wellness programs, while others have taken advantage of other resources to promote employee wellness. Programs focus on identifying health risks, while encouraging healthy behaviors like regular exercise, healthy eating and tobacco cessation.
Local schools are working to instill healthy behaviors in the city's youngest residents through a variety of programs and activities promoting fitness and obesity prevention. In January 2013, Parent Teacher Organizations of the city's two elementary schools launched the Titan Tone Up, a six-week fitness program designed to encourage students to get the recommended 60 minutes per day of physical activity. Students were rewarded for their participation with a variety of prizes and incentives. The Titan Tone Up program culminated in the Titan Trot 5K and 1-Mile Fun Run.
Ridgeland's faith-based community is taking a proactive stance in encouraging wellness opportunities for the community, including Highland Colony Baptist Church's healthy weight loss program. Colonial Heights Baptist Church is also promoting a faith-based approach to a 5K training program and hosts the Heart of Compassion 5K, drawing nearly 200 participants.
The city is home to the Ridgeland Sow and Grow Garden, which provides fresh produce for residents with limited resources. Farmers' markets and produce stands also offer fresh, seasonal and local produce to residents.
City leaders are taking advantage of technology to promote opportunities to residents, including the Healthy Hometown Ridgeland website. The site is a hub for a variety of wellness resources, including fitness events, health news and information and profiles of residents who are committed to healthy living. The Healthy Hometown Dish feature allows residents to find healthy dining options at local restaurants.
As "Mississippi's Healthiest Hometown" for 2013, the city plans to use the $50,000 grant award to focus on enhancing playground areas in local elementary schools, as well as incentivize schools for promoting healthy behaviors to students. The city also plans to further its "e" efforts to educate and engage residents on local wellness opportunities.
2013 Healthy Hometown - Starkville - (Population 15,000 or more residents)
Grant Awarded: $25,000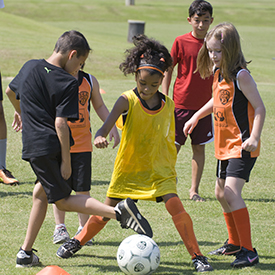 Since being named "Mississippi's Healthiest Hometown" in 2011, the City of Starkville has continued its ambitious wellness efforts in the community. Its goal is to create a healthy municipal infrastructure, serving as a blueprint for future construction and enhancements in promoting a Healthy Starkville. Led by the Healthy Starkville Committee, the focus on health and wellness involves all facets of Starkville.
As a smoke-free municipality, Starkville continues to be a role model for other communities looking to create healthier environments for their citizens. Recent research also shows the number of heart attacks in Starkville has decreased more than 27 percent since the ordinance was implemented.
Home to Mississippi State University, Starkville's efforts extend well beyond the confines of the city. With students across the state and well beyond, its efforts have a positive impact on the health and well-being of many individuals. On campus, Mississippi State University's Department of Health and Wellness promotes health to faculty, staff, students and members of the community. Most recently, its MSU on the Move initiative offered an all-encompassing approach to health education and wellness opportunities on campus and in the surrounding community.
Local businesses, like Gulf States Manufacturing, are helping to ensure employees have access to healthy food options. It maintains an onsite community garden with produce available to employees and their families, which they can also sell at the community market. Several other businesses also have employees who actively participate in area fitness events.
Civic organizations continue to have a strong presence in the community, promoting programs like safety courses for children and working with seniors. The Starkville Junior Auxiliary provides free bicycle helmets to children each year, while the Pilot Club's Brain Minders puppet show teaches children about safety issues in a creative and engaging atmosphere. Local Boy Scouts work with senior citizens in planting and harvesting vegetables at the Starkville Senior Center.
With the $25,000 grant award, Starkville plans to upgrade its Parks and Recreation areas and fund education, programming and awareness campaigns for various projects throughout the city.
2013 Healthy Hometown - Brookhaven - (Population 5,001 to 14,999 residents)
Grant Awarded: $25,000
In its first year as a Healthy Hometown contender, the City of Brookhaven is making significant progress in creating a healthy living and working environment for its residents. Its Healthy Hometown Committee members share the common goal of providing citizens with plenty of opportunities to make healthy living a priority.
The Brookhaven School District developed its own wellness policy and the Child Nutrition Program has been recognized for its achievement in the Healthier U.S. School Challenge. The Child Nutrition Department also sponsors the Summer Food Service Program to provide meals to children during the summer break. Elementary schools use physical activity exercises to help enhance students' learning experiences in the classroom.
The City Park Multi-Use Trail gives Brookhaven residents ample opportunities to be active, from walking and jogging, to biking and more as the trails also boast five exercise stations. The Brookhaven Parks and Recreation Department operates tennis courts, sportsplexes and several playgrounds. It also hosts activities like flag football leagues, adult recreational sports teams and fitness programs for children and seniors.
Brookhaven is host to many fitness events throughout the year, including the Mississippi Gran Prix Bicycle race, which is the largest amateur race in the South. Others include various charitable fitness events, 5K walks/runs and others focusing on engaging children.
City employees enjoy free immunizations and health screenings, wellness center discounts and have the opportunity to participate in health management programs. Local businesses offer health screenings and education programs designed to help employees know their health status and manage any health risks.
Residents can readily access healthy eating options from many local restaurants and can even find a variety of healthy snacks at local convenience stores. The Brookhaven Farmers' Market features local, seasonal produce along with additional specialty food items. A local community garden even provides produce that is donated to the Catholic Church food pantry to help those in need.
The city is using its website to promote wellness with a "Healthy Activities" section that features information about local fitness opportunities, Parks and Recreation information, Farmers' Market information and more.
Brookhaven plans to sustain its efforts with the $25,000 grant award including enhancing its parks' exercise equipment, promoting bicycle safety to kids and building a new walking trail.
About the Judges
Healthy Hometown applications are evaluated by a panel of known health and wellness champions from around the country. Judges for the 2013 Healthy Hometown program were Tara Costa, Season 7 finalist of NBC's "The Biggest Loser" and national health advocate; Oklahoma City Mayor Mick Cornett, who launched a citywide health initiative resulting in almost 50,000 citizens losing a combined 1,000,000 pounds; and Chris Waddell, the most decorated male skier in Paralympic history and the first paraplegic to summit Mount Kilimanjaro unassisted.