Starkville is Mississippi's Healthiest Hometown in 2011
Starkville proudly became the first municipality in the state to become smoke-free in May 2006 and has seen a 27 percent decrease in incidences of heart attacks since the ordinance went into effect. Through the leadership of the Healthy Starkville Committee, the city is using their accomplishments to develop a blueprint for future developments to sustain a "healthy municipal infrastructure." Through active involvement of all facets of the community, the City of Starkville is engaging residents through a variety of activities and resources and working to create a healthier community.
In Starkville, the opportunities to be active are plentiful. Starkville in Motion, a local grassroots organization, promotes the use of sidewalks, bike lanes and trails. These efforts enabled the city to secure a $281,000 grant for Mississippi Safe Routes to School, as well as more than $1 million from MDOT for a multi-use path through town, connecting parks, residential areas, schools, the MSU campus and more. With five walking trails open to the public, the city estimates between 200-300 people are walking each day. The Parks and Recreation Department also offers a variety of fitness opportunities including organized youth sports and aerobic fitness classes.
Businesses are realizing the value of healthy lifestyles and some have developed their own community gardens for employees. Gulf States Manufacturing has developed a one-acre lot at their facility where employees plant and harvest the produce for themselves and their families and to be sold at the local Community Market. The Community Market is open to the public from May to October and features in-season fruits, vegetables and other local items. City employees are encouraged to participate in the "Steps on Saturday" program, which holds organized walking events on the weekends. A website has also been developed and dedicated to providing information on diet, exercise and healthy living.
On any given school day, students of the Starkville School District are learning lessons in good health and benefiting from healthier food options including fresh fruits, vegetables and whole grains. Some elementary schools are taking part in Healthy School Celebrations to promote awareness of healthy eating habits. Physical activity also plays an important role in students' education, and the district has been recognized for outstanding work in physical education with a Governor's Commission Award and honors from the American Heart Association.
Technology and social networking are playing an increasingly prominent role in how we communicate and receive information, and Starkville is using this technology to its advantage. The Healthy Starkville iPhone application provides users with healthy lifestyle information related to events, parks and recreation information, healthy dining opportunities and more.
2011 Healthy Hometown - Sumrall (Population fewer than 5,000 residents)
The town of Sumrall is turning its goal of becoming a healthier community into a reality with the help of its Healthy Hometown Committee. Local parks provide opportunities for people of all
ages to be active with a walking track, playground and splash pool. Residents also have access to Longleaf Trace, which is a 41-mile trail between Hattiesburg and Prentiss. The town has adopted a Complete Streets policy which will allow bicyclists and pedestrians safe traveling
areas on roadways.
Faith-based organizations like First Baptist Church are
also playing an important role in promoting health awareness. An annual 5K Run encourages citizens to be fit and the church also has exercise facilities available to its members. Upward Basketball offers children a chance to enjoy the sport in a non-competitive environment, while helping students sharpen their skills for competition in other environments. The ROCK is another ministry which hosts exercise classes two nights each week for adults and teens.
Students of the Lamar County School District have access to onsite health screenings, physicals and dental exams provided by the school nurse and volunteer health professionals. Good nutrition is promoted in school cafeterias and the nutrition program is aiming to provide at least 1/3 of the Recommended Daily Allowances for children and has removed fryers from its food preparation areas. Elementary school students participate in 90 minutes of physical education each week. Time for physical activity is also available for middle and high school students.
2011 Healthy Hometown - Hattiesburg (Population 15,000 or more residents)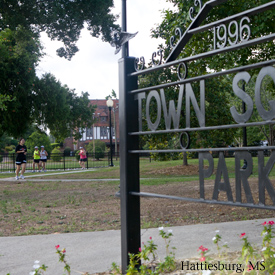 The city of Hattiesburg is making good health a top priority, and their "Get Healthy Hattiesburg" health initiative promotes healthy living every day. The city's website provides residents with information on parks and recreation areas and even nutrition information.
Social networking is key in this town home to more than 16,000 college students who rely on social media to stay connected and informed. The city utilizes outlets like Facebook, Twitter and Flickr to promote events to its residents.
Hattiesburg is also home to Longleaf Trace, which extends all the way to Prentiss, and is heavily used by walkers, cyclists and more. The city is working on plans to expand it to become even more bicycle friendly and will encourage more people to be active. In addition to Longleaf Trace, the city features more than 15 walking parks. Some of these also include playground areas and exercise equipment.
Local media is also lending its hand to help engage community members to focus on their health. The Hattiesburg American newspaper features a weekly column titled "Your Health" focusing on a variety of health topics. Healthy Cells magazine, published monthly, is available free to the public and offers advice on a variety of topics from health and fitness professionals. Television station WHLT 22 has teamed with Stretch and Grow, a health program for kids, and airs an education segment focusing on fitness and motor skill development in children as well as healthy eating and exercise tips for families.
Hattiesburg is home to three farmers' markets open to the public, and students at Hawkins Elementary are learning the importance of healthy eating by planting a community garden. The garden, organized with the University and Ekklessia Church, is walking distance from the school and students are encouraged to maintain their plants year-round.
All 10 schools in the Hattiesburg School District have a Wellness Policy, which incorporates physical activity, nutrition and health education into the curriculum. In 2007, elementary schools had the opportunity to participate in the Let's Go Walkin' Mississippi school program, logging more than 150 minutes each week per student and 5,000 minutes at the end of the school year.