Hernando is Mississippi's Healthiest Hometown in 2010
Mayor Chip Johnson is leading the city's health initiatives and has initiated several health-minded ordinances during his tenure, including a smoking ban ordinance, a Complete Streets policy and youth helmet ordinance. He is a national spokesperson for local obesity prevention initiatives and was one of two mayors in the country invited to address the kick off of Michelle Obama's "Let's Move!" anti-obesity campaign. When the mayor first took office, he removed the snack vending machine from City Hall and has required other city building machines to offer healthy options. City leaders have even reached out to local restaurants and fast food chains to indicate healthier selections as part of the Healthy Hernando Options program.
Schools have taken a proactive approach with wellness, including a district-wide wellness policy promoting healthy lifestyles. The "Eat Right, Play More" program encourages better nutrition and physical education for students through healthier food options, extra recess time, vending machine makeovers, Safe Routes to School and more. The school district is also home to twelve Project Fit America playgrounds.
The City of Hernando boasts five major parks and other outdoor and indoor recreation areas for residents to be active, including a morning-led walk by the Mayor at a local track. At the DeSoto County School District, the city's largest employer, a "Biggest Loser" campaign encourages teachers and staff to exercise and make better eating choices. Teachers and staff members pay $5 to participate. Weekly body mass index measurements are taken to keep up with the percent of body fat lost. City employees are encouraged to use their breaks to enjoy a brisk walk on the streets and sidewalks around City Hall and have the opportunity to participate in the Healthy Eating and Active Living in Hernando (H.E.A.L.) program. The city hosts a website to keep residents up-to-date on events and wellness information and has utilized social networking by creating a Facebook page for Healthy Hometown news, the Farmers' Market, Parks and Recreation programs and more.
The Hernando Farmers' Market is open every Saturday from 8:00 a.m. until 1:00 p.m. beginning the first Saturday in May and ending the last Saturday in October. The Market has grown considerably since it began three years ago and features fresh, local fruits and vegetables, nursery plants, canned goods, baked goods and a variety of other local, healthy items.
The city's Complete Streets policy ensures that transportation planners and engineers design and operate the entire roadway with all users in mind - including bicyclists, public transportation vehicles and riders, and pedestrians of all ages and abilities. A recently-passed helmet ordinance requires all children ages 1-17 to wear a helmet when riding a bicycle.
2010 Healthy Hometown - Tupelo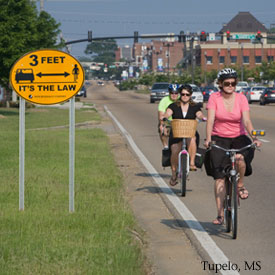 Tupelo has taken their health initiatives to heart and made physical activity a top priority in their hometown. The city boasts several local parks and recreational sporting venues, including walking tracks, playgrounds, a golf course and swimming pool. Fitness in Tupelo (F.I.T.) provides free opportunities for physical activity for eight weeks, including classes like Tai Chi, Boot Camp, dance, hula hoop, bicycling and walking. Residents teamed up to slim down with in "Trim Down, Tone Up Tupelo," the city's version of the TV's "The Biggest Loser" A total of 153 teams competed and lost more than 4,000 pounds in nine weeks, with the winning team receiving a healthy, home-cooked meal at the home of Mayor Jack Reed.
The Mayor's Marathon was the first step taken by the Healthy Tupelo Task Force to improve the health and wellness of the citizens of Tupelo. The Mayor's Marathon was an initiative to get Tupelo residents to walk the distance of a marathon (26.2 miles) in a month. Elementary
student participated, with one class at Carver Elementary continuing their marathon and more by walking 100 miles. They were escorted by the Mayor during their their 100th mile.
The City of Tupelo provides a variety of opportunities for city employees to improve their health status. An annual health fair provides each employee access to valuable health screenings, immunizations and health information. To encourage employees to exercise regularly, special discounted membership packages have been negotiated at several area fitness centers.
The city has also recently doubled its allocated funding to building more sidewalks and is currently working on regulations to promote compact, walkable neighborhoods. Tupelo passed the first three-foot law in the state to increase safety for pedestrians and cyclists, and has more than double their funding for sidewalks. They have also passed a Complete Streets policy.
Tupelo is also home to the HealthWorks! Museum, which features interactive exhibits focused on health and fitness for children and a variety of other educational programs aimed at instilling healthy habits early in life.