University and College Tobacco-Free Policies Strengthened
The Blue Cross & Blue Shield of Mississippi Foundation's overarching vision includes support of universities and colleges as community stakeholders in their efforts to create sustainable healthy campus cultures. The Foundation stands ready to partner with our state's institutions of higher learning as they explore opportunities to implement and strengthen campus tobacco-free policies.
The Blue Cross & Blue Shield of Mississippi Foundation is providing ongoing support to Mississippi's universities and colleges by encouraging strengthened tobacco-free policies that align with the Model Policy for a Smoke-free College/University as published by the American Nonsmokers' Rights Foundation (ANRF). The Foundation is using a tiered approach for awarding grant funds to universities and colleges willing to adopt tobacco-free policies that include 100 percent of the elements in the Model Policy. Grant funds are provided for support of general health and wellness at the university or college, excluding support of athletic teams. Tier 1 grants support the updating of tobacco-free policies, Tier 2 grants support the initial implementation of the updated policies, and Tier 3 grants support the enforcement of the updated policies.

The following universities and colleges have received grants from the Foundation to strengthen their tobacco-free policies:
Alcorn State University
Delta State University
Coahoma Community College
Copiah-Lincoln Community College
East Mississippi Community College
Jones County Junior College
Mississippi Delta Community College
Mississippi Gulf Coast Community College
Mississippi State University
Mississippi Valley State University
Northeast Mississippi Community College
Northwest Mississippi Community College
Pearl River Community College
Southwest Mississippi Community College
The University of Southern Mississippi


With a focus on sustainable health opportunities throughout life, the Blue Cross & Blue Shield of Mississippi Foundation is proud to partner with these higher learning institutions that have a vested interest in building strong communities and shaping new citizenry.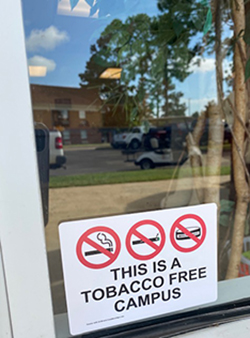 Pictured above: New tobacco-free signage at Pearl River Community College in Poplarville