LeFleur's Bluff Playground, A Gift for Mississippi's Children
A new state-of-the-art playground is now open to children and their families at the LeFleur's Bluff Education and Tourism Complex in Jackson. The playground, funded by a generous grant award from the Blue Cross & Blue Shield of Mississippi Foundation to the Mississippi Department of Wildlife, Fisheries and Parks Foundation, is located between the Mississippi Children's Museum and the Mississippi Museum of Natural Science. The grant also provides funds to create an outdoor classroom and pavilion and museum walking trail, both to be completed in the summer of 2022.
The 30,000-square-foot playground is separated into different play areas based on age, for children 6 months to 12 years old. It features 80 play activities, with 73 of these features being inclusive to children with accessibility needs. A custom We-Go-Swing will allow accessibility to children with and without wheelchairs. The Wedra, a playground structure for ages 6-23 months, is the first play structure in the world with this design. Another structure, the Hedra® Tower, is designed for children ages 5-12 and is the fifth play structure in the country with this design. Shade structures cover 75 percent of the playground, making the area below up to 30 degrees cooler for year-round outdoor play.
"All structures on the playground promote physical activities - from providing greater freedom to run, jump, and climb, to supporting reduced stress levels," said Emily Hoff, Executive Director for the Mississippi Children's Museum.
The Outdoor Classroom and Pavilion will provide multiple functions for both museums, such as educational and outdoor programming for field trips and a place to showcase presentations for festivals and other activities. The pavilion will provide tables and seating for up to 50 students, as well as accommodate a larger assembly with an open-air amphitheater and grass lawn.
Once completed, the Museum Walking Trail will provide engaging, family-oriented opportunities to travel between the Mississippi Museum of Natural Science and the Mississippi Children's Museum, so guests can conveniently visit both museums and the playground. The 8-foot wide walking trail will feature an original story of Spotter the Otter that is native to the Mississippi Pearl River, a key geographic feature of LeFleur's Bluff State Park.
"The LeFleur's Bluff Playground, Outdoor Classroom and Pavilion, and Museum Trail align with the Blue Cross & Blue Shield of Mississippi Foundation's strategic focus to provide sustainable health and well-being opportunities for Mississippians," said Sheila B. Grogan, Foundation President. "Encouraging children, families and others to spend more time outside engaging in fun activities develops life-long positive attitudes about maintaining healthy lifestyles."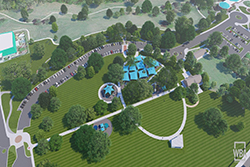 Above renderings of the Playground and Outdoor Classroom and Pavilion provided by WBA Architecture

Above rendering of the Museum Trail provided by Mississippi Children's Museum