Poplarville Lower Elementary is Mississippi's Healthiest School for 2019
Grant Awarded: $50,000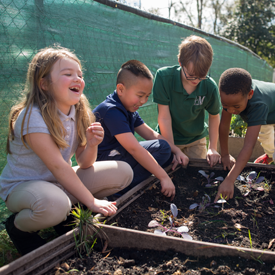 Poplarville Lower Elementary School won a Healthy School Award in 2018 and continued its success by being named "Mississippi's Healthiest School" in 2019. With health and wellness as one of Poplarville School District's overall strategic goals, policies were adopted to integrate health education into all subject areas. School leaders and school health council members collaborate to ensure faculty, staff, students and their families have opportunities to participate in healthy eating and exercise activities such as gardening, archery and after-school fitness classes
Healthy nutrition with hands-on learning is reinforced at Poplarville Lower Elementary School through caring for the school garden and using the garden's fresh produce for preparing healthy snacks. Physical activity breaks are encouraged in the classroom to allow students to participate in short bouts of exercise before returning to their studies, and school personnel have access to an on-site fitness room that includes cardiovascular and strength building exercise equipment.
With the $50,000 grant award, Poplarville Lower Elementary School plans to upgrade playground areas to expand options for inclusive play.
2019 Healthy School - Columbia Primary School
Grant Awarded: $25,000
Aligned with one of the overall strategic goals established by the Columbia School District, Columbia Primary School promotes health and wellness to impact students' academic achievement as studies show health and learning go hand-in-hand. School leaders and school health council members work together to improve the health of school personnel, students and their families.
At Columbia Primary School, students begin each day with fun physical activities such as climbing the rock walls, exercising at circuit stations or walking the hallways that are creatively marked as a walking track. Fitness challenges and events are available for school personnel with recognition and incentives for those demonstrating improvement in health.
Columbia Primary Schools plans to use the $25,000 grant award to create an indoor exercise space for school personnel and upgrade the outdoor playground areas for students.
2019 Healthy School - Oak Park Elementary School
Grant Awarded: $25,000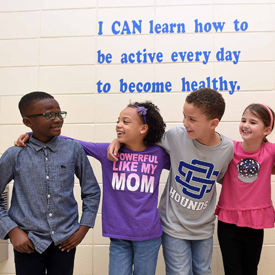 Located on the Mississippi Gulf Coast as part of the Ocean Springs School District, Oak Park Elementary School is a role model of health and wellness for schools across Mississippi. School district leaders and school health council members are building a sustainable culture of health and wellness that promotes health education, healthy nutrition and physical fitness.
Hydroponic gardens are incorporated into all Oak Park Elementary School classrooms allowing students an opportunity to grow fruits, vegetables and herbs, with a "salad party" at the end of each semester to share the healthy harvest with their families. In the school cafeteria, fryers were replaced with combination ovens, making menu options healthier. Many of the school's teachers are certified fitness instructors who lead after-school exercise classes and wellness challenges for school personnel.
Plans for the $25,000 grant award include expanding the school garden, upgrading the existing playground equipment and resurfacing the outdoor walking trail.
About the Judges
Healthy School Awards applications are evaluated by a panel of known health and wellness champions from across Mississippi. Judges for the 2019 Blue Cross & Blue Shield of Mississippi Foundation Healthy School Awards Program were:
Susan Garrard, president and CEO of the Mississippi Children's Museum


Dr. William Lewis, immediate past president of Pearl River Community College


Amy Lipovetsky, executive director of the Mississippi Association for Health, Physical Education, Recreation and Dance (MAHPERD)