Grenada Upper Elementary is Mississippi's Healthiest School in 2017
Grant Awarded: $50,000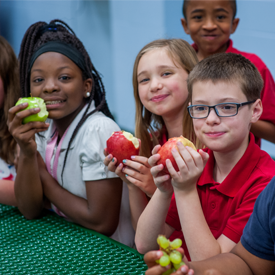 Taking top honors as the "Healthiest School in Mississippi" for 2017, Grenada Upper Elementary School has made significant progress in enhancing its wellness goals. Health screenings, nutrition education and fitness classes are available for faculty and staff at no cost. Students are taught the value of health and are given opportunities for short bouts of exercise during the school day. Vending machines available to students, faculty and staff offer only healthy beverage and snack items.
With innovative programming such as the "Walk with the Principals" campaign to promote daily exercise and various opportunities for faculty and staff to attend fitness classes and healthy cooking demonstrations, the school is building a sustainable model for individuals who want to live healthy lifestyles. Grenada Upper Elementary School is a true role model of health and wellness for schools across Mississippi.
With the $50,000 grant award, Grenada Upper Elementary School plans to replace ageing fitness equipment, and purchase additional fitness equipment for use by students, faculty and staff, to include treadmills, rowers and stationary bikes.
2017 Healthy School - Columbia Elementary School
Grant Awarded: $25,000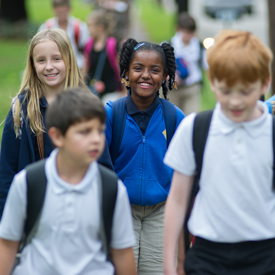 Columbia Elementary School is committed to health and wellness in alignment with one of the overreaching strategic goals established by the Columbia School District. The "Health is Academic" incentive program reinforces healthy behaviors to impact students' academic achievement as studies show health and learning go hand-in-hand.
Daily fitness activities are offered to students that include martial arts, archery and planting and harvesting fresh fruits and vegetables in the school's garden. Fun fitness and nutrition challenges are available for faculty, staff and parents, such as afternoon exercise group classes and healthy cooking classes that provide recipes and tasting opportunities.
With the $25,000 grant award, Columbia Elementary School plans to enhance the school garden by adding a garden work bench and installing a vertical garden wall for use in growing herbs and fruits. The school also plans to purchase cardiovascular fitness equipment for the newly constructed wellness center.
2017 Healthy School - Pass Christian Elementary School
Grant Awarded: $25,000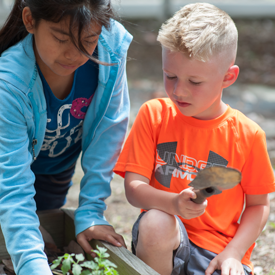 Located on the beautiful Mississippi Gulf Coast as part of the Pass Christian School District, Pass Christian Elementary School thrives on providing an environment where students learn the importance of healthy eating and exercise. In-class physical activity breaks are encouraged to allow students to participate in short bouts of exercise before returning to their studies.
Faculty and staff use fitness bands attached to the bottom of their desks to incorporate movement while seated. To encourage health and wellness, a yoga and walking club is available to faculty and staff after school hours. Monthly incentives are available to teachers who participate in school wellness activities and have perfect attendance.
The school's annual 5K and One-Mile Fun Run event is popular among students, parents and members of the surroundin community. The inaugural event was held in 2013, and has grown to include a health fair with free health screenings, tobacco prevention education and opportunities to taste healthy foods.
Pass Christian Elementary School plans to use the $25,000 grant award to create a wellness center outfitted with exercise equipment designed to improve cardiovascular fitness. The wellness center will be available for use by students, faculty and staff.
About the Judges
Healthy School Awards applications are evaluated by a panel of known health and wellness champions from across Mississippi. Judges for the 2017 Healthy School Awards Program were:
Andrea S. Mayfield, Ph.D., Executive Director of the Mississippi Community College Board, leads a staff who helps coordinate the activities of Mississippi's fifteen community colleges, and she works with the Mississippi state government to coordinate workforce training. Dr. Mayfield currently serves as a member of the Board of Trustees for the Southern Association of Colleges and Schools Commission. She is the past president of Shelton State Community College in Alabama and past vice president of East Mississippi Community College. As Executive Director of the Mississippi Community College Board, Dr. Mayfield is committed to building partnerships and implementing strategic initiatives that advance Mississippi's economic development through education.


Letha Richards, Ph.D., Development Officer and Director of Educational Outreach for Coahoma Community College, serves as the project director for the Fit for Life initiative at Coahoma Community College. The initiative has a mission to build a healthy campus culture that extends into the surrounding communities and schools. A former soldier in the U.S. Army, she was selected as one of twelve individuals nationwide to work at the NASA headquarters serving as a liaison between NASA and STEM (acronym for science, technology, engineering and math) programs at secondary education institutions. Dr. Richards is an active member of the Clarksdale community and participates in local and state 5K events, usually receiving a first or second place award in her division.


Mike Duggar, former President and CEO of Methodist Children's Homes, has more than twenty years of experience working with underprivileged children in Mississippi, Tennessee, Pennsylvania, Maryland and Georgia. He is member of the United Methodist Association of Health and Welfare Ministries and a former adjunct faculty member at Jackson State University. Mr. Duggar, who holds a Master's degree from Penn State University, has a vision to lead the way for improving the care for traumatized children and troubled families.