Indianola Community Wellness Center
"The Blue Cross & Blue Shield of Mississippi Foundation is proud to partner with the South Sunflower County Hospital Foundation to develop the Indianola Community Wellness Center. The state-of-the-art facility will serve as a centerpiece for healthy living and offer exciting opportunities to individuals and families who want to improve their overall well-being." Sheila Grogan, President, Blue Cross & Blue Shield of Mississippi Foundation
Construction is now underway for the new Indianola Community Wellness Center being built at the corner of East Baker Street and Moody Avenue. With a generous grant provided to South Sunflower County Hospital Foundation by Blue Cross & Blue Shield of Mississippi Foundation, residents of Indianola, Sunflower County and surrounding counties can look forward to participating in engaging activities designed to help individuals and families lead healthy lifestyles.

With completion scheduled for late fall 2021, the Indianola Community Wellness Center will feature a fully-equipped fitness center for exercise opportunities, a teaching kitchen where healthy nutrition and cooking classes will be taught, classrooms where participants can learn practical ways to lead healthy lifestyles and a community room for healthy living activities.

"We are very excited to partner with the Blue Cross & Blue Shield of Mississippi Foundation to improve access to a variety of wellness programs for the residents of Indianola and surrounding areas," said Courtney Phillips, CEO of South Sunflower County Hospital. "This opportunity will allow us to fulfill our commitment to a healthier community by providing a facility focused on wellness and healthy lifestyles. By offering nutritional, fitness and wellness programs in a comfortable environment, our goal will be to reduce health disparities, such as obesity and diabetes, in Indianola and the surrounding area."

The Blue Cross & Blue Shield of Mississippi Foundation has a vision for a healthy Mississippi and provides targeted grants to fund initiatives and programs to improve the health and well-being of Mississippians. The Foundation is impacting Mississippi's communities and taking a leadership role in setting the future course for healthy living among all Mississippians.
The front of Indianola Community Wellness Center as seen from the intersection of Moody Avenue and East Baker Street.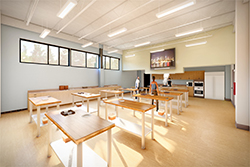 Healthy cooking classes will be taught in the Indianola Community Wellness Center teaching kitchen.

Renderings provided by McCarty Architects